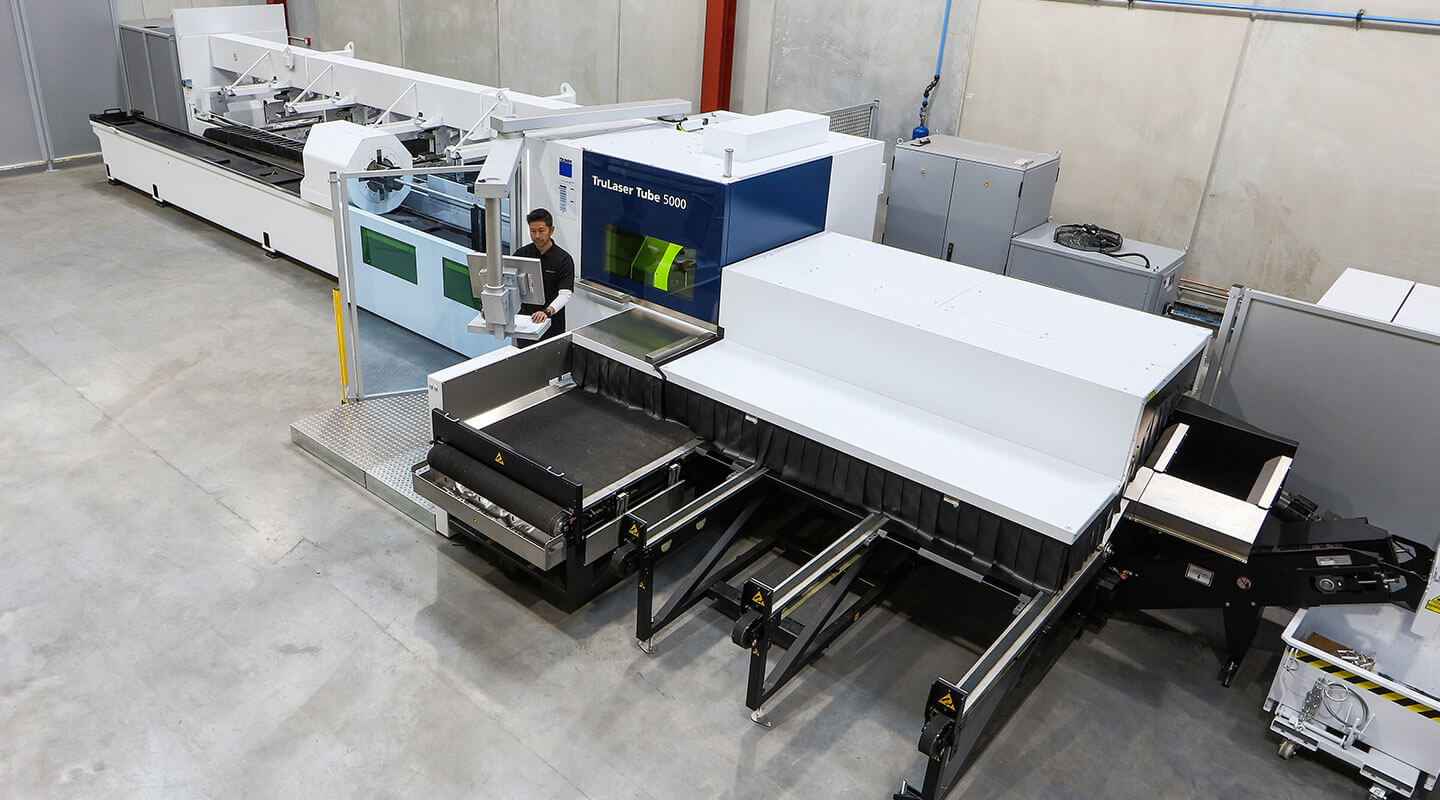 Mulcahy Engineering installs TRUMPF Tube Laser Cutter.
The new TRUMPF TruLaser Tube 5000 recently installed by Auckland-based Mulcahy Engineering has opened up a whole new world of possibilities for designers and engineers.
Traditionally, manufacturers have steered away from including complex angles and beveled edges on their products because of the lengthy machining work required – and the hefty price tag that comes with it. Not any more.
The Tube Laser Cutter makes short work of even the most complicated components, so designers can push the boundaries of product innovation economically.
The intuitive design and programming software allow Mulcahy to break down customer assemblies, manipulate models and add features such as tube connections at the click of a button.
And it's all done to the highest precision.
"Designers and engineers can include features in their products that would have been prohibitive in the past because of time and the expense of down-stream processing," explains Managing Director Kayne Mulcahy.
The machine can bevel cut to +-45º. And because the required angles are programmed directly from 3D models, it produces components that exactly match the designer's assembly.
"The Tube Laser Cutter provides a quick and repeatable process that allows for complete design freedom," says Kayne.
This machine is equipped with a 3Kw fiber resonator, which not only provides unparalleled levels of cutting speed but also the ability to process materials such as brass and copper.
The Tube Laser Cutter can angle cut Round Tubes from 15mm to 170mm diameter.
Square and rectangular Profiles can be cut to a maximum outer circle diameter of 170mm, a maximum square of 125mm x 125mm and a maximum rectangular of 150mm x 75mm.
Another big point of difference for this machine is its ability to process open profiles like channels, angle and even flat bar.
Channels can be cut from a minimum size of 30mm x 15mm up to a maximum of 140mm x 100mm.
Angles can be cut from a minimum of 25mm x 25mm to a maximum of 140mm x 100mm.
The machine laser cuts flat bars from 15mm x 3mm right up to 150mm x 8mm.
By adding the TruLaser Tube 5000 to their existing stable of technology, Mulcahy can now offer their clients a complete laser cutting service.
"It also gives us complete control over our services deliverables, not only in terms of the quality produced, but the timeframe within which the end result is delivered."
Let's talk about how our Tube Laser Cutter can provide you with an economical way to push the boundaries in product innovation.
Imported from Germany in 2018, it took around a month to install and commission the machine, during which time members of the Mulcahy team were upskilled to program and operate it.
The machine has a LoadMaster tube bundle magazine, allowing automatic loading and processing of tubes up to 8 meters in length. "It's big," says Kayne. So big in fact that the company needed to add a 500 sq/mtr extension to their existing facility in Avondale to house it.
Kayne is excited about the possibilities that the Tube Laser Cutter can provide to original equipment manufacturers throughout New Zealand.
He's excited too that the addition of the Trumpf machine to the company's capabilities aligns perfectly with their philosophy of being a total manufacturing solutions partner for clients.
"We can handle everything from initial concept and design through to production, packing and delivery – anywhere in the world," he says. "We offer a fully integrated manufacturing solution."