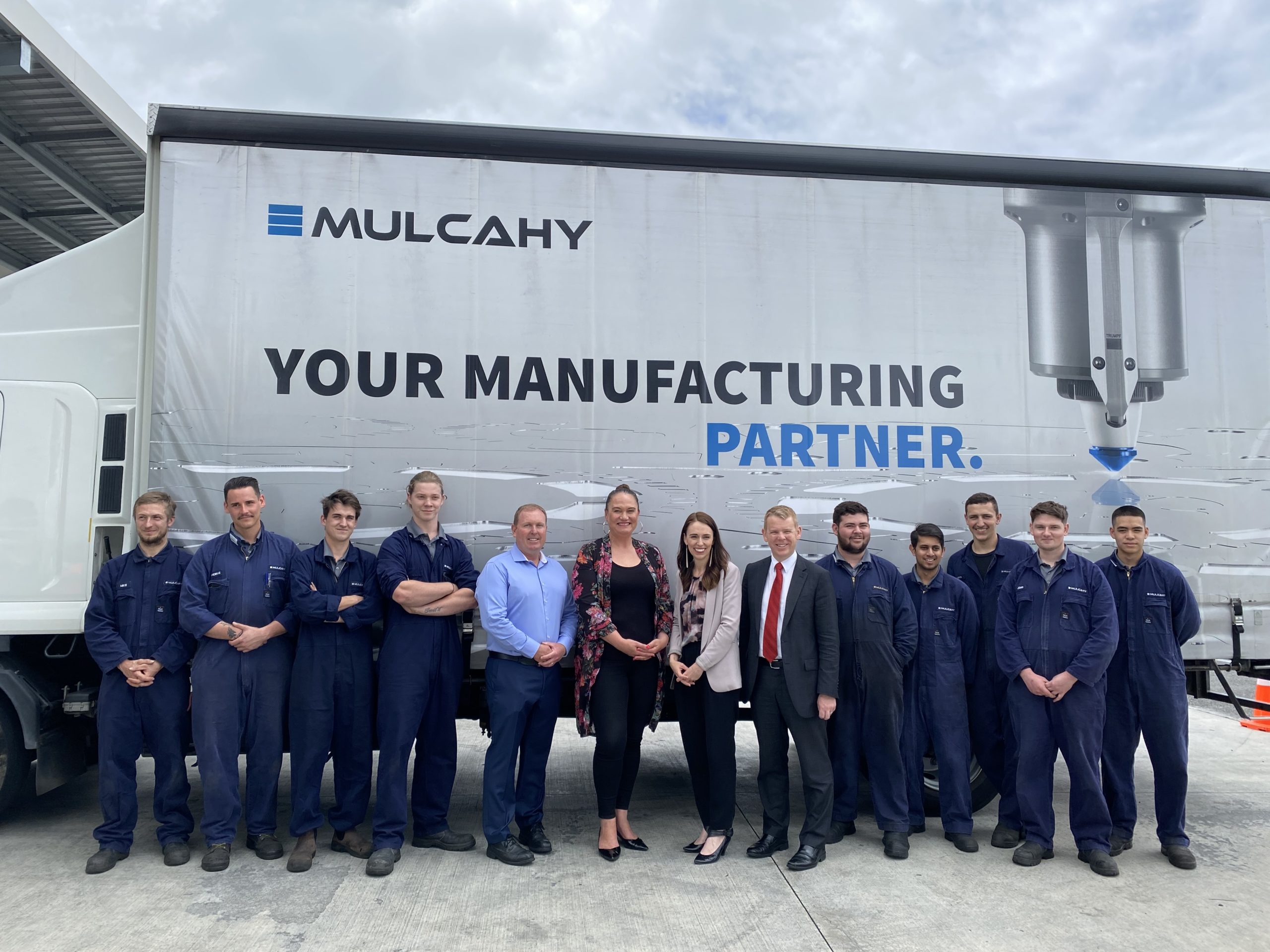 PM visit recognises Mulcahy's commitment to apprentice development
As part of the government's drive to increase the number of trade apprenticeships across New Zealand, Prime Minister Jacinda Adern visited the Mulcahy workshops in Avondale this week to learn more about the company's ongoing commitment to apprentice development.
Managing Director Kayne Mulcahy took the Prime Minister and fellow Labour Party Ministers Chris Hipkins and Carmel Sepuloni on a tour through the 6000 square metre plant, introducing them to apprentices along the way.
Mulcahy currently has ten apprentices in their team, ranging from Year One to Year Four.
"Not everyone wants to be a lawyer or an accountant, so learning a trade needs to be promoted as a really acceptable and prosperous career path," Kayne says.
The Government agrees. They're running a major advertising campaign over the next four years to achieve just that.
Kayne goes on to explain that while people want to be qualified, "those qualifications don't always need to be through universities. As an apprentice, they're learning on the job – and earning while they do it."
Apprentices have always been an integral part of the Mulcahy team. The company has trained over 60 tradespeople since starting business. "We take on at least two new apprentices every year," says Kayne.
When the four-year apprenticeship is successfully completed, there's the security of knowing a full-time job awaits the now fully qualified tradesperson. Kayne adds that "we're also working hard to ensure further career opportunities are available to those who want to transition into more senior roles within the company."
"Our aim is to fulfil our internal fabrication resource requirements from our Apprenticeship Programme," Kayne explains. "It provides us with skilled tradespeople who understand our business."
Mulcahy have trained unit standard assessors in-house as part of their Apprenticeship Programme. This is supplemented with external assistance from Competenz.
Vic Jacka, who is Mulcahy's dedicated Apprentice Mentor, co-ordinates the training programme. This includes access to digital learning tools (such as 2D drawing and 3D modelling), one-on-one mentoring with a tradesperson, e-learning and block courses.
"Our apprentices are lucky to have the mentorship of such an experienced tradesperson who is also passionate about sharing his knowledge," Kayne says. "Vic has been in the industry for over 40 years and is keen to see apprentices succeed."
Kayne is rightfully proud of his company's Apprenticeship Programme. "It's critical in the development of our future work force. It's good for our business – and it's a great way to put people on a pathway to a rewarding lifelong career."
The recent visit by the Prime Minister is further proof of the Programme's ongoing success.
Let's talk about how our accurate and efficient collaboration can work for you.